It's like something from William Golding's Nobel Prize-winning novel.
The Occupy Wall Street protest within New York City, namely at Zuccotti Park in the heart of Manhattan, has exploded into something more interesting than drum circles, brotherhood, and 99% chants -  plain and simple, face-palmingly ridiculous, hypocrisy.
Imagine the Manhattan area has seemingly broken off from the rest of the city on their own little Park-sized island, the people within akin to savages, just like
Lord of the Flies
.
In watching
The Daily Show
this afternoon, program correspondents / interviewers decided to jump on the bandwagon with dozens of other news programs and publications, in order to get some information, absorb some feeling, and bring it right to your living room.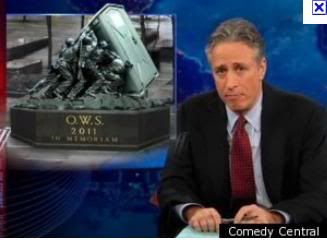 However, while newspapers print photos, Republicans hate on hippies, and Howard Stern jokes about dirty bums and junkies that don't have a clue what's going on,
The Daily Show
goes a step further to highlight a very startling turn the protest has taken - one that no other news station or publication has seemed to notice until tonight, post air:
OWS protesters have, in the course of days, split themselves off into sectors based on class.
This isn't something the protesters don't know about, of course - at least, not the "low class" ones.
The Daily Show
begins questioning them on whether or not they're aware of what the correspondents have noticed. And many of them claim they know, and that they're pissed.
Apparently, the suburban-raised, "hipster College hippies" have taken it upon themselves to sit on steps, sip Starbuck's coffee, whip out their laptops in free time, and appoint themselves the speakers and decision makers for the whole of the congregation.  In the meantime, protesters who are truly unemployed, uneducated, in debt, foreclosed on, and willing to set up sleeping bags and tents in dedication to the 99% cause, have been pushed aside to "dirty" areas and told to bug off. Oh btw, these latter protesters happen to include the vast majority of minority individuals involved.
A map was then shown on-air representing the Manhattan area this particular protest was taking place within, a clear border indicating where the hipsters ended and the "dirty people" began (It's perhaps too soon, but this blogger couldn't find a cap so far).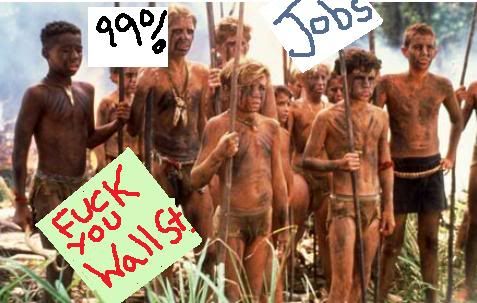 OWS protesters, supposedly against the elite 1%, separating themselves based on class, commodity, and cleanliness. Right.
I
was
completely for the spring-up of such groups endeavoring to bring a change, so I'm incredibly saddened, though not too surprised, that it seems clearly more about getting their voices heard - as in childish attention - than having the maturity or brainpower to even grasp what's going on or what protest is really about, let alone bring about any kind of change.