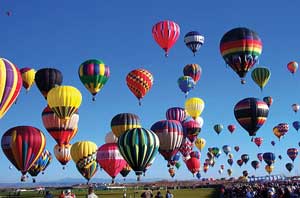 This is Albuquerque, and this is the only REAL thing that brings money to this boring shitty city. Sure it's a beautiful sight when you have never seen it before, but when you live here, you grow to hate this annual event.

They get up at around 3 AM to prepare their balloons to fly by firing up these loud jet engines to inflate the balloon. Unfortunately, they don't always land in the same place they took off. Instead they land in FUCKING NEIGHBORHOODS, like mine. Normally it's around 5 AM, waking me up and having the dogs bark non-stop for hours on end.

So if you ever get a chance to see the balloon fiesta, say hell no. Talk to your pets, have them spread the word.