Recently, a film was released that proves a complete sin if not viewed immediately: Battle Los Angeles.
I located this film on a favorite movie site about two weeks ago, and at first, thought it a shitty made-for-TV farce due to its suspicious-looking promo poster.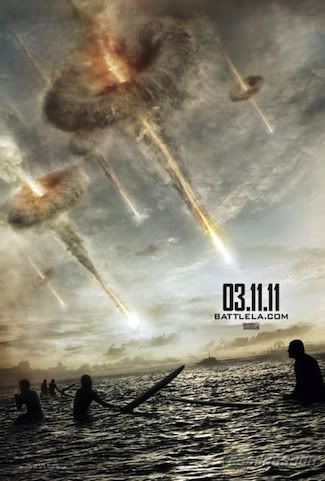 Then I found that none other than Harvey Dent himself, Aaron Eckhart, was starring as Staff Sarge. Since I love sci-fi, I gave it a shot.
JESUS FUCKIN' CHRIST!!!!!
I'm talking non-stop, start to finish, front line action.  Bombs and guns and corpses galore. Los Angeles on fire during 50% or more of the movie. And the term "Staff Sargeant" couldn't be screamed out more.
Basically, you have a sudden invasion by aliens off the coast of pretty much every water-side city on the globe. They'd disguised themselves as meteors before pretty much assembling and literally blowing away humans from the ocean as they moved on land.
The marines are immediately called into action, with Eckhart leading a squad to a local police station to clear out remaining civilians before an air strike can wipe out what's left of the doomed city.
What proceeds is a two-hour skirmish the likes of which keeps you on the edge of your seat. This is the kind of action that makes you wanna join the army. The awesomeness that keeps this kind of sci-fi alien invasion idea fresh, however, is that these invaders aren't armed with laser beams, protective shields, and impossible technology. Sure, their shit is different, but it's pretty much an equal match all the way - standard maneuvers, vulnerable points, battle tactics, and shit that blows up just as easily as anything.
What you end up with is one of those films I must've seen about 30 times before the last Tuesday release. Try it, and you'll be calling in to work (special ed school for some) to blast it over and over again.
RETREAT: HELL!!!