Happy Crappy Birthday from Your Friends at Cold Stone Creamery
On Saturday I received the following birthday message from cold Stone Creamery in my e-mail: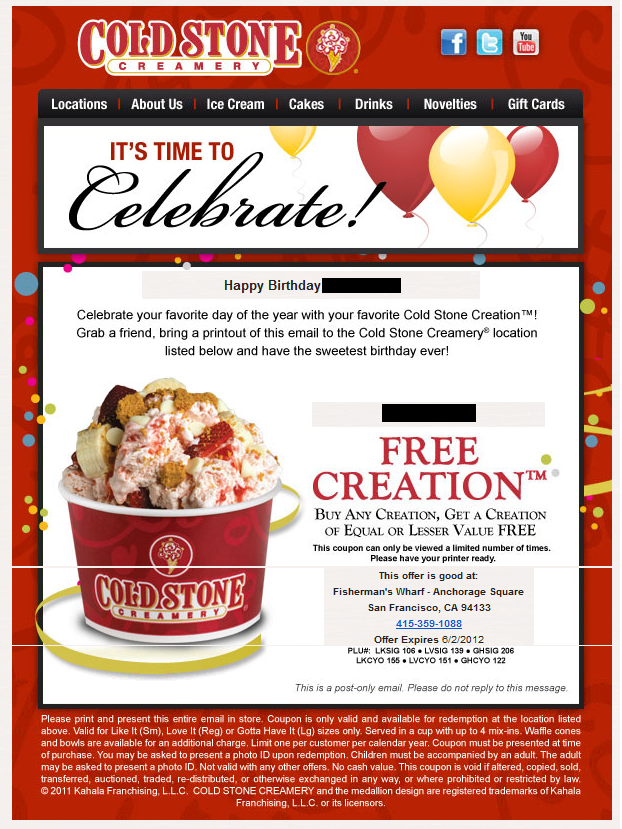 This was my reply:
Dear Cold Stone Creamery,
I am touched that you remembered my birthday. With all the millions of birthdays out there, I appreciate the lengths you must go to in order to contact each and every individual with a My Cold Stone Club account.
At first I was uncertain of my decision to create such an account. I love Cold Stone, but there was something egocentric about participating in a program called "My Cold Stone Club." After all, Cold Stone doesn't belong to me as an individual; it exists to benefit the public as whole, like a library. Nonetheless, I created my online account one year ago on my birthday, hoping to qualify for a special birthday offer.
I'll tell ya, technology just keeps getting more advanced. I remember back in the 90's when you had to walk into a Baskin Robbins and tell them it's your birthday just to get a free ice creamhow quaint! Now all I have to do is log on the super information highway and boomafter signing up with a valid email address, phone number, name, mailing address, etc., and retyping a random string of illegible characters to prove that I am not a robot, I can receive regular email updates from Cold Stone Creamery including a special offer every year on my birthday! It's like I'm living in the future!
Unfortunately, as I found out last year, creating a My Cold Stone Club account on the night before my birthday did not provide Cold Stone with adequate notice to provide my special birthday offer, and so I would have to wait another 12 months to collect on that birthday ice cream. This week, after an entire year of exciting email updates from Cold Stone, the anticipated moment had finally arrived!  
I received the following offer in my email: Free CreationTM! Buy 1 Creation and receive another Creation of equal or lesser value for FREE. Who knew "Creation" was a trademarked term? Somebody alert the severed head of Franz Josef Haydn, LOL! Seriously though, buy-get-1-free. What a fun and cool way to celebrate my birthday! Rather than enjoying a free ice cream by myself, I get to enjoy a free ice cream PLUS the added bonus of paid-for ice cream with a friend. On top of all that awesomeness, I didn't get some impersonal nationwide generic coupon, this offer was personalized within a 20-mile radius of my Oakland zip code, making it redeemable only at the cold Stone located on Fisherman's Wharf. How fun! Instead of just going to the same old boring Cold Stone around the corner, I now get to go on an adventure through the Bay Bridge tollbooth and park my car among hundreds of thousands of touristsin addition to ice cream, it's like I'm also getting a vacation out of the deal! Oh, and it was totally neat how the email said "this coupon can only be viewed a limited number of times. Please have your printer ready." This isn't some boring coupon grandma cut out, this is a secret Mission Impossible message that can self-destruct. It's like I'm a secret agent living in the future!
One small criticism: I think it's unfair that waffle cones and waffle bowls do not apply to this offer are only available at an additional charge.
Your Friend,
[Name withheld]
P.S. Let's go out for Ben and Jerry's some time. My treat!