Multibillion-dollar experiment to create a blackhole , just to p
Deep underground on the border between France and Switzerland, the world's largest particle accelerator complex will explore the world on smaller scales than any human invention has explored before.
startclickprintexclude-->
-->===========IMAGE============-->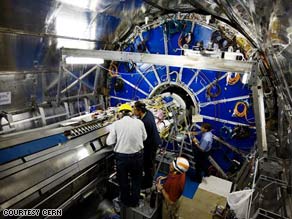 ===========/IMAGE===========-->
===========CAPTION==========-->The collider's ALICE experiment will look at how the universe formed by analyzing particle collisions.===========/CAPTION=========-->
endclickprintexclude-->
The Large Hadron Collider will look at how the universe formed by analyzing particle collisions. Some have expressed fears that the project could lead to the Earth's demise -- something scientists say will not happen. Still, skeptics have filed suit to try to stop the project.

It even has a rap dedicated to it on YouTube.
Scientists say the collider is finally ready for an attempt to circulate a beam of protons the whole way around the 17-mile tunnel. The test, which takes place Wednesday, is a major step toward seeing if the the immense experiment will provide new information about the way the universe works.
"It's really a generation that we've been looking forward to this moment, and the moments that will come after it in particular," said Bob Cousins, deputy to the scientific leader of the Compact Muon Solenoid experiment, one of six experiments inside the collider complex. "September 10 is a demarcation between finishing the construction and starting to turn it on, but the excitement will only continue to grow."
The collider consists of a particle accelerator buried more than 300 feet near Geneva, Switzerland. About $10 billion have gone into the accelerator's construction, the particle detectors and the computers, said Katie Yurkewicz, spokewoman for CERN, the European Organization for Nuclear Research, which is host to the collider.
In the coming months, the collider is expected to begin smashing particles into each other by sending two beams of protons around the tunnel in opposite directions. It will operate at higher energies and intensities in the next year, and the experiments could generate enough data to make a discovery by 2009, experts say.