Obama's Grandma Dies Hours Before Election
Democratic presidential candidate Barack Obama said his grandmother died today.
Madelyn Payne Dunham, 86, helped to raise Obama, and had not been well for a long time. She broke her hip recently. But Obama said Monday she died of cancer.
"It is with great sadness that we announce that our grandmother, Madelyn Dunham, has died peacefully after a battle with cancer. She was the cornerstone of our family, and a woman of extraordinary accomplishment, strength and humility. She was the person who encouraged and allowed us to take chances. She was proud of her grandchildren and great-grandchildren and left this world with the knowledge that her impact on all of us was meaningful and enduring. Our debt to her is beyond measure. Obama said he learned of her death Monday morning while he was campaigning in Jacksonville, Fla. He said he planned to go ahead with campaign appearances before Election Day on Tuesday. "She's the one who taught me about hard work. She's the one who put off buying a new car or a new dress for herself so that I could have a better life. She poured everything she had into me," he said.
Obama broke away from campaigning in October and flew to Hawaii in order to be with Dunham after she fell.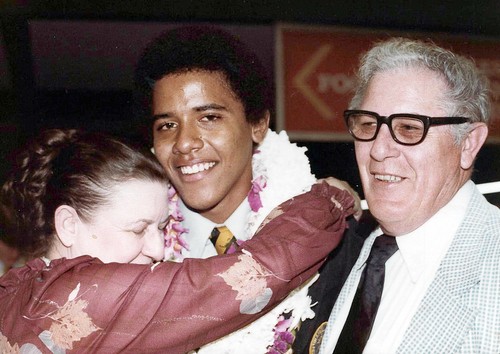 My condolences,