RE: to SpaceEagle's PS Blog
SpaceEagle, your blogs are probably the best here. The photoshop bit was great, so I figured I'd add a bit of a support/rebuttal/spinoff all-in-one kinda thing on the subject. Hope u don't mind, cuz your blog got me thinking about it.
Unfortunately, we live in a culture where looks are fuckin' everything. So I can't blame a chick for tweaking a picture for the sake of keeping a conversation going, where otherwise some douche would immediately log off. Besides, think about it - does it ever occur to one guy or another that fugly or fat chick pics might be a purposeful method of getting you the fuck away from them?
Seriously, if a chick doesn't respond to the douche, she must be deaf. A bitch. Gay. Crazy. Anything besides someone that would dare to believe the douche is ugly, stupid, weird, a little-dick loser.
Well, chicks can be that way, too. I'll be friendly with anyone; if I'm at a rare point where I'm lurking around or end up with random messages, pm's, and invites from someone interested? I'll make my decision at a glance. So it's a practice not foreign to the fairer sex. And is the reason why, while your side is understandable, so is theirs:
Too often you get these peeps that repeatedly demand pics; that's a major strike, as they're clearly either prowling around for masturbation material, or they've been surprised by too many she-males. Regardless, these guys basically ask for whatever ass ugliness they get from photoshop frauds as a result of shallow and incessant prying. And what the fuck are you looking for?? Asking for more pics isn't gonna change their physical configuration, but IS gonna let them know you're basing a decision on it, which is not good...
"GIMME A PIC"
"GIMME A BETTER ONE"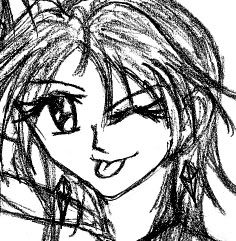 "I NEED TO SEE MORE"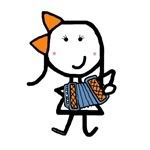 "DON'T YOU HAVE ANY MORE?"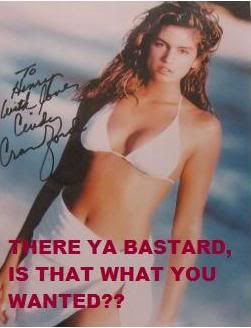 Personally, I've never photoshopped any pics I post online, unless I end up letting someone do their artsy pro shots of me or something. However, I will make it a point to limit what someone gets, when they get it.
A big chunk of it is talking to the right person. If they're fugly, it doesn't matter to me what pics they get, I'll send as many as they like. If they're hot, which is rare, considering my yellow fever tastes, they only get the good ones. And they actually get less of them. If they bug the shit outta me, they get the fake pics. These can range from stock photographs to cropped McDonald's ad models, right up to a picture of my aunt's ass in spandex. Doesn't matter to me, cuz when I'm in a horny mood? Unless you look like this:
I'll probably react the same way the douche does when he doesn't get Cindy Crawford.  Lame to you? Try replacing Ruki with Vin Diesel for 99% of the rest.