I sense an extreme disturbance in the blog force.
A strange smell permeates the eBaum's air. It's putrid, unnerving. Something wicked draws near...   
JESUS FUCKIN' CHRIST!!!! OOOOH!! AAAAAAAAAAAAAAAAAAHHHHHH!!!!! JESUS!! IT'S HORRIBLE!!!!!!!!!!
This horde of decaying creatures are breaking through the blog section gates, an abomination to intelligent minds all!!!
They're crude, ugly, and hungry for brain matter!!
They won't stop until they've devoured every last I.Q. point in sight!
The mods kill one, and an army of new tards take their place!
several have already been spotted on the grounds today!
An emergency task force has been dispatched to warn the townsfolk and set up an attack line. Look for instructions posted at every intersection to advise you.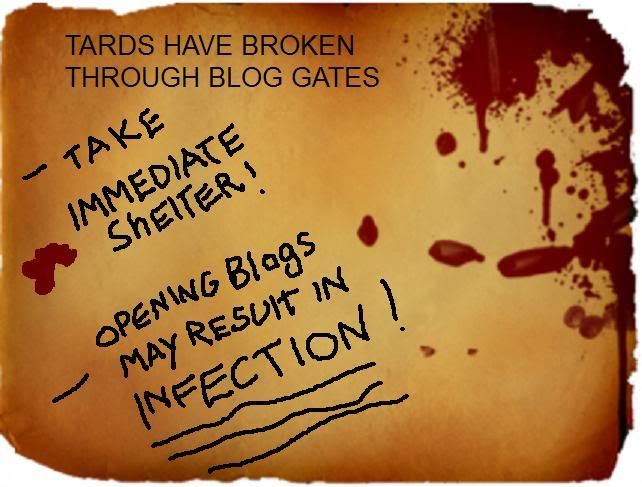 For CHRIST'S SAKE don't open their blogs!! That is how infection begins! Every poorly-structured phrase has been tested as a -2 reduction in quotient points in normal citizenry, though mutations have been observed: the reading of commentary can carry with it an astounding 31% reduction in common sense and sanity alone!!
Don't risk it!!!
Join us at the corner of chat and features with any weapon you can secure if you wish to add to the task force's numbers. Otherwise, take shelter now!!