by David Stewart
#10. King Swan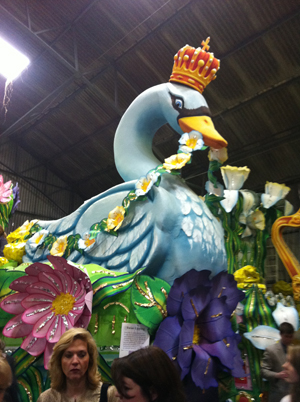 source: theweekendinparis.com
Swans are known for their grace and elegance and this royal bird is no exception and with a rope of sunflowers coyily in it's mouth, this Feathered Monarch makes quite the impression.
#9. Satan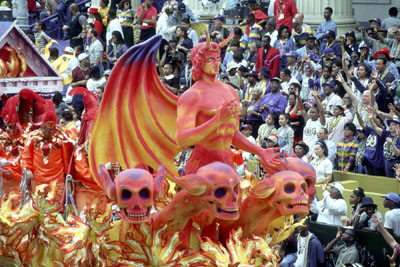 source: allaboutmardigras.com 
A jolly sight at Mardi Gras, Lucifer and his flaming skulls excite the senses and the imagination of the crowd.
#8 Money Toliet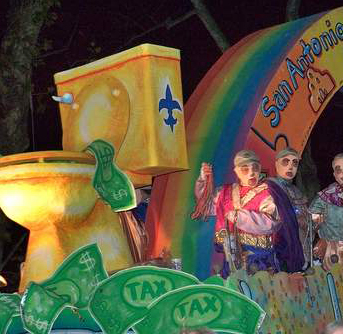 source: Krewe of D' Etat 
Making a statement regarding taxation, this well informed Krewe used the powerful imagery of the toliet to turn their float into a mobile protest. 
#7 Vader
 source: asergeev.com
A staple of Mardi Gras and All Around General Folk Hero, Darth Vader sets a celebratory tone for any Mardi Gras Function.  
#6 Satan, again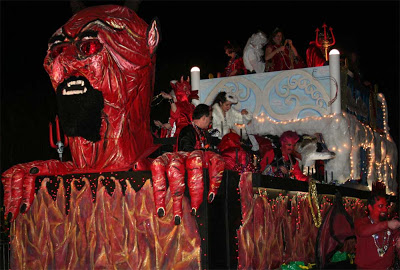 source: barrierislandgirl.blogspot.com
The Devil returns again in this float, this time with tradmark goatee and bright red eyes; the Master of Darkness is here to party!
#5 Three Headed Gator Playing Guitar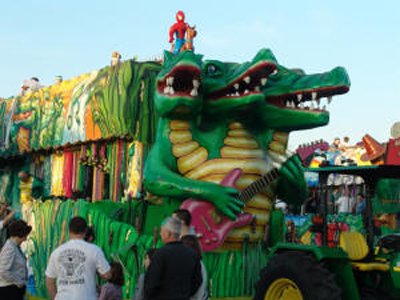 source: Krewe of O' Keanos 
Nothing says Mardi Gras like a Three Headed Alligator smiling at you while it rocks on a Pink Stratocaster. This reptilian cerberus is many things, striking, bold and unforgettable. 
#4 Hulk Hogan
source: usatoday.com 
Another time tested favorite with the throng of celebrators, Hulkamania is again unleashed when the sight of this powerful individual comes rolling by. 
 #3 Big Gator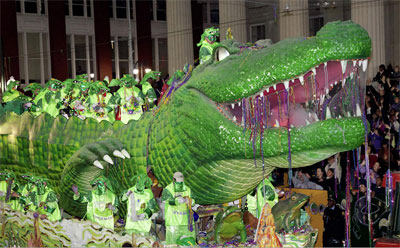 source: Carol M Highsmith
Chomp! Watch your fingers! this giant gator is surrounded by men dressed themselves as alligators, sights like this are what keeps the crowd coming year after year.
   #2 Kiss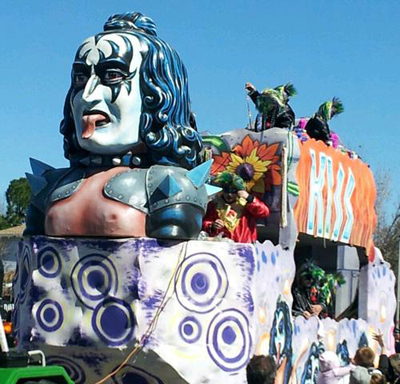 source: kissonline.com 
Gene Simmons would be proud with this bust of his Demon character from legendary rock band Kiss, looking like an gothic George Washington, bare chest puffed foward.
#1 Tiger Woods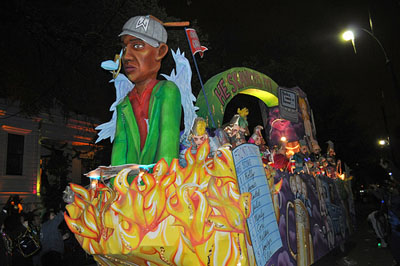 source: allprosports.com 
The Great Tiger Woods is the star of this float, towering over a raging inferno in his trademark golfing apparel. Hole in one! 
For more articles, please check out privateislandparty.com!