Hey peeps! Talk of evil babies reminds me, my little baby nephew's birthday is coming up later this month.
I've been scanning the toy sections searching for the perfect gift for him and still dunno what to buy. Everything seems too complex with a lot of small parts, or too simple, as I can picture him ripping the head off of it.
I figured I'd highlight a few that seem like good ideas, and you can feel free to meebo me with what seems the most exciting. Some of these might make perfect gift ideas for some of our users, as well - Christmas is right around the corner, after all!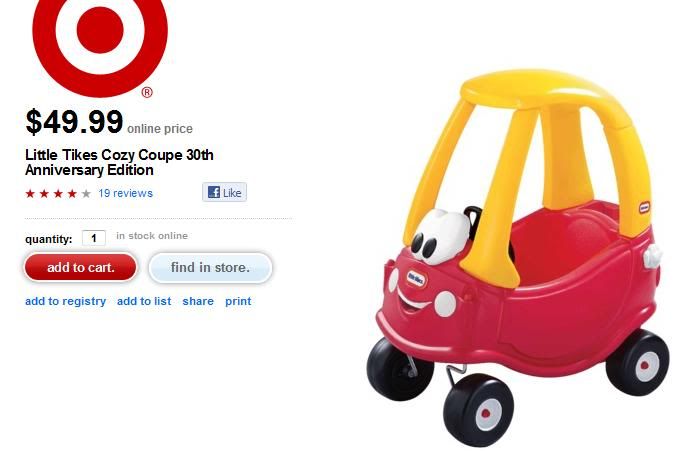 Here's the
Little Tykes Cozy Coupe
. I'm sure everyone's had one of these when they were little. It's one of those toys every kid just has to have, and Target's selling the new 30th Anniversary edition of the item.
Not so sure about the dumb face on the front, though.

Someone suggested to me the
Playskool Poppin' Park Elefun Busy Ball Popper
(take a breath)... Ok, right there with the name I'm not sure I want to buy this one. Plus, the damn elephant is pink. So right away I can see the family bitchin' about how pink = gay.
But either way, it's supposed to be a really fun toy, where the trunk shoots the plastic balls out. Apparently it's one of Toys R' Us's best sellers.

I saw this on the same site while going through their toy inventory, and just can't stop going "awwwww". It's the
Fisher-Price Ocean Wonders Soothe & Glow Seahorse
.
They have it in pink and blue, and I think it's just too fucking cute. Kinda like this generation's version of the Glo-worm. It lights up and plays music, I think, when the baby goes to bed. The price is very nice, too.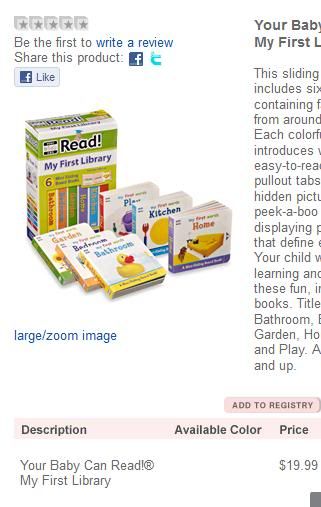 Then again, I guess you can never go wrong with educational toys. And Buy Buy Baby has this
Your Baby Can Read: My First Library
. It consists off a bunch of those cute little cardboard books with like 6 pages. They're all about basic familiarity with the rooms of the house, like what's in a bathroom, kitchen, etc.
Dunno why, but I actually like the fact they don't have Big Bird or Grover in them. They're just regular learning books with pics of what the baby's supposed to be focusing on.
Apparently there's more than one collection, and $19.99 per set is a good price.
Of course, I can also be a bad Aunt and pick up some Chinese-sweatshop-made abomination from the Dollar Store, such as these humping dinos. Or, I could go through their bin of stained and poorly-made stuffed animals, which look familiar cuz I usually pick one up now and again as presents for my parents' dog.
They have cards, gift bags, tissue wrapping, and curly bows, so I always have the option to get everything I need in one stop. Of course, I'd probably already go to a Dollar Store to pick up the gift bag and card, since it's just fucking stupid to pay $3.99 for a piece of paper in an envelope to read, set on the TV for a few days, and then throw out.
But far as their wondrous collection of plastic and plush fun goes, I may be simply too guilty to think about buying anything for a human being.