Racist Student Vandals Get Caught by Their Phones Auto Connecting to the WiFi
School officials saw disturbing video footage captured by security cameras of masked men vandalizing their Maryland High School. The men were seen spray-painting racist and homophobic slurs on the sidewalks outside the building.
These morons were quickly identified when their phones auto-connected to the school's WiFi, under their individual names. School Officials say it took only a few clicks to find out who it was in the video.
Students Seth Taylor, Tyler Curtiss, Joshua Shaffer and Matthew Lipp recently snuck onto Glenelg High School property while wearing masks and spray-painted swastikas and "KKK", as well as racist and homophobic slurs like "ni**er" "Jews," "Fags," and one aimed directly at the school's principal, "BURTON IS A NI**ER".


The four students tried to play it off as a "senior prank". Seth Taylor told the Washington Post that they were originally going to spray paint "Class of 2018" on the sidewalk, but that "things got out of hand."

Taylor claims he "never really understood the symbol of the swastika because the school didn't include that." Taylor was quoted as saying "I spray paint one racist thing and, suddenly, I become a racist? Just because I did it doesn't mean I hate Jews, gay people or black people".
A former teacher of Taylor's called his bluff by pointing out that she had taught to kill a mockingbird in a class he was in.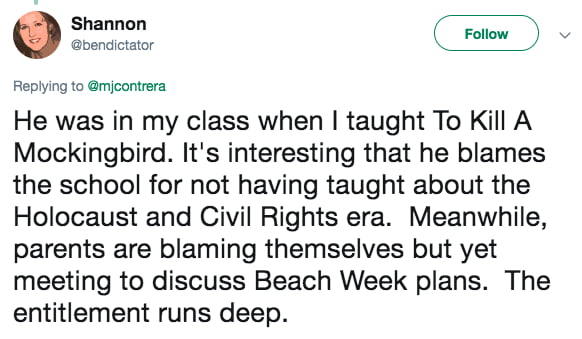 When an officer placed Taylor under arrest they were walking past the school cafeteria and Taylor asked the officer:

"Can you cover my face so that the kids don't videotape me?"
"No," the officer replied. "You deserve this."


Each of the teens received jail sentences of differing lengths, and were to be served on the weekends. They were also given probation and community service. The four will be eligible to have their hate crimes expunged from their permanent record when they complete probation.