Jacksonville Jaguars Coach Urban Meyer Embarasses Self, Team
damn_nation_inc Published
10/06/2021 in
facepalm
Urban Meyer is a legendary coach in the college football circuit, having led incredibly strong teams with the Florida Gators and the Ohio State Buckeyes and winning multiple titles with both. As a pro coach in the NFL, however, his tenure so far has been... less than glorious.
After overseeing the Jacksonville Jaguars' fourth loss in as many weeks on Thursday Night Football, Meyer decided not to travel back to Florida with the team that he is responsible for. Instead, he chose to stay behind in his home state of Ohio where he was recorded partying it up and getting grinded on by several young women, none of whom were his wife. That footage has since gone viral.
Urban Meyer's apology
pic.twitter.com/ttf7xghm8x

— SideAction (@SideActionHQ) October 4, 2021
Meyer apologized to the team and Jaguars ownership upon his return and that probably should have been the end of it... until sports reporter Mike Silver posted a series of tweets that paint out Meyer as having completely lost the locker room.
THREAD 1) The Urban Meyer situation in Jacksonville has reached a crisis point, especially in the locker room. One player told me, 'He has zero credibility in that stadium. He had very little to begin with.'

— Michael Silver (@MikeSilver) October 5, 2021
2) Players were particularly put off by the fact that Meyer canceled Monday's team meeting, as he dealt with the uproar over the videos of him and a young woman getting cozy in that Ohio bar. 'He even canceled the team meeting. He was too scared,' a player said.

— Michael Silver (@MikeSilver) October 5, 2021
3) Instead Meyer 'only apologized to position groups individually.' He portrayed the woman in the videos as a random person who was 'just there dancing.' Suffice it to say, his audience was highly skeptical.

— Michael Silver (@MikeSilver) October 5, 2021
4) Said one player: 'We looked at him like, WTF? Right when he left everyone started dying laughing. And he knew it.'

— Michael Silver (@MikeSilver) October 5, 2021
5 Bottom line, said the player: 'It's bad. I don't know how he's gonna function.'

— Michael Silver (@MikeSilver) October 5, 2021
Silver hasn't disclosed his sources and so this is all technically hearsay, but it's still a pretty bad look. Jags fans have been frustrated with the Meyer regime for a while now, from his signing of Tim Tebow to his seeming ineptitude as a coach at the professional level. One fan provided a great summary of grievances:
They know this type of behavior is not how a coach should behave, he has a pattern of making horrible decisions pic.twitter.com/SL2DrudhFF

— Rashad (@Blvck_777) October 5, 2021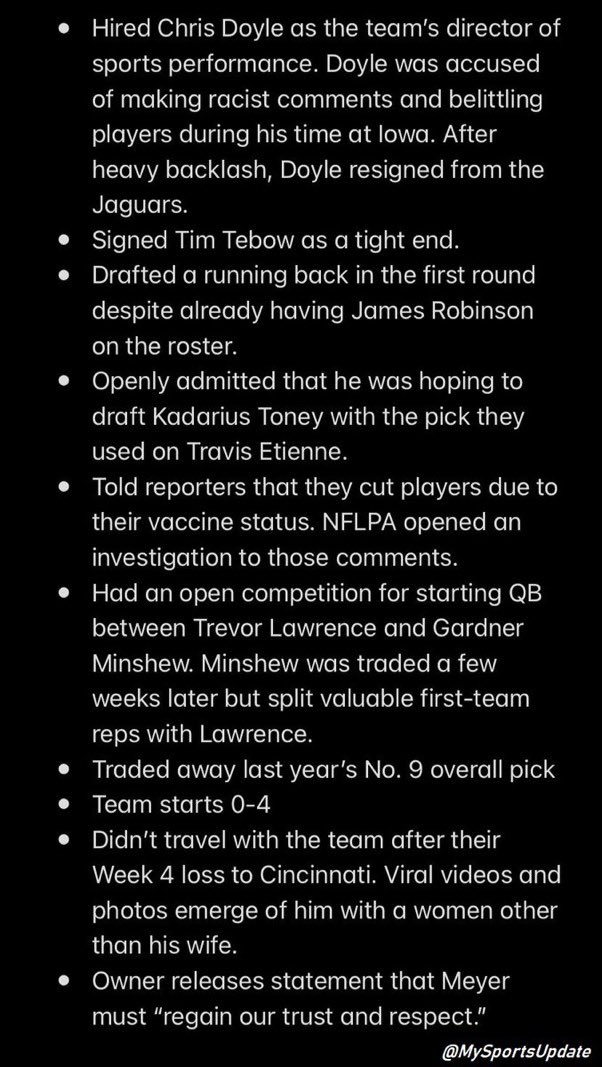 Some people pointed out that the incident, while amusing, seems to be getting blown out of proportion since he's a grown man on a day off, but others countered that his leadership role requires a stricter code of conduct:
Because he's in a leadership position and he did not show leadership qualities. He then cancelled a Monday meeting with his players because if the incident. He's a poor leader who doesn't command a team.

— BungiePlz (@bungie_plz) October 5, 2021
Jags leadership clearly agreed, because they issued the following statement:
October 5, 2021
Never great when your boss says you're going to have to "work to regain our trust and respect."
Needless to say, the whole situation got meme'd almost immediately:
I thought it was a joke when people said there's a pic of Urban Meyer and his wife on the wall at his bar/restaurant that he got filmed at pic.twitter.com/Cj9c43qXXz

— Molly (@FSUmollz) October 5, 2021
Urban Meyer when he sees a drunk CoEd in a college bar pic.twitter.com/xaMf1l6sX1

— Greg Mackey (@gmackey32) October 4, 2021
Urban Meyer continues to make terrible decisions when it's come to tight ends pic.twitter.com/FBZ19AoxJo

— NFL Memes (@NFL_Memes) October 5, 2021
Urban Meyer balancing jaguars ownership, locker room, and fans pic.twitter.com/enw5X0nNPe

— kyle (@knicks_tape99) October 5, 2021
As a man who lives in Columbus Ohio @OfficialAJHawk

What the HELL happened with Urban Meyer this weekend?? #PMSOverreactionMonday #PatMcAfeeShowLIVE pic.twitter.com/swcwsYMjWF

— Pat McAfee (@PatMcAfeeShow) October 4, 2021
"I am very sorry and I promise I will finger this out." -Urban Meyer pic.twitter.com/dqb4Hm9uej

— McNeil (@Reflog_18) October 4, 2021
Urban Meyer when he stepped foot back in Ohio pic.twitter.com/CSir1nS8Wx

— Loafer connoisseur (@Al_Laflare) October 4, 2021
Urban Meyer end of Jaguars tenure live odds:

Fired at end of season for performance +150

Retires due to heart issues +200

Retires due to sex addiction +370 (up from +1000)

Hired by USC +400

Retires after successful career +100000 pic.twitter.com/H5FapxffFH

— RedditCFB (@RedditCFB) October 5, 2021
We'll let you know if Meyer loses his job in the next few weeks.