It's Thursday the 20th, So Why Do I Keep Seeing This Meme Today?
Featured 06/20/2019 in
wow
The "Thursday the 20th" meme comes from an episode of The Simpsons in which a rapper is performing on stage wearing a necklace with the words, "Thursday the 20th" on it.
During the episode, Bart attends a rap concert without permission so Lisa and Principle Skinner use footage of the rapper's chain to prove that Bart actually attended the concert.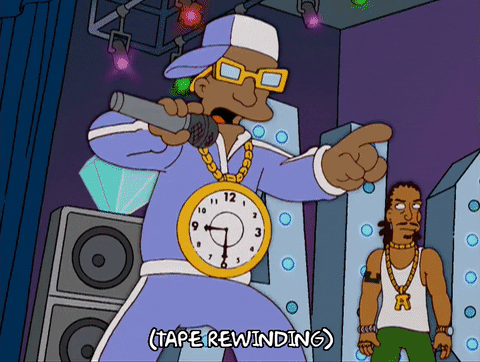 The meme began spreading back in 2014 when a Reddit user posted a screenshot of the rapper to /r/TheSimpsons with the caption, "Happy Thursday the 20th, everybody!" Ever since then, anytime it's Thursday the 20th, this meme shows up in full force.
In 2017, Thursday the 20th occurred on the same day as famous stoner holiday 4/20 so the image was photoshopped to make the rapper appear high.
Here's a clip from the episode:
Here's a list of all the days Thursday the 20th occur for the next 10 years so you can be prepared:
2020
Thursday, February 20, 2020
February
+ 8 months
2 times in year 2020
Thursday, August 20, 2020
August
+ 6 months
2021
Thursday, May 20, 2021
May
+ 9 months
1 time in year 2021
2022
Thursday, January 20, 2022
January
+ 8 months
2 times in year 2022
Thursday, October 20, 2022
October
+ 9 months
2023
Thursday, April 20, 2023
April
+ 6 months
2 times in year 2023
Thursday, July 20, 2023
July
+ 3 months
2024
Thursday, June 20, 2024
June
+ 11 months
1 time in year 2024
2025
Thursday, February 20, 2025
February
+ 8 months
3 times in year 2025
Thursday, March 20, 2025
March
+ 1 months
Thursday, November 20, 2025
November
+ 8 months
2026
Thursday, August 20, 2026
August
+ 9 months
1 time in year 2026
2027
Thursday, May 20, 2027
May
+ 9 months
1 time in year 2027
2028
Thursday, January 20, 2028
January
+ 8 months
3 times in year 2028
Thursday, April 20, 2028
April
+ 3 months
Thursday, July 20, 2028
July
+ 3 months
2029
Thursday, September 20, 2029
September
+ 14 months
2 times in year 2029
Thursday, December 20, 2029
December
+ 3 months