by Emily Neeland 
Are you going to a Swinging 60's party, or have the desire to infuse your wardrobe with inspirations from the Summer of Love? Then take a look at our suggestions for hair, makeup, and accessories to complete your groovy look!
The 1960's was filled with color and energy that is still seen being replicated by fashionistas today. Let us take you back to a time of music festivals, free love and women's liberation, by offering you tips & tricks to get the best 60âs look!
Hair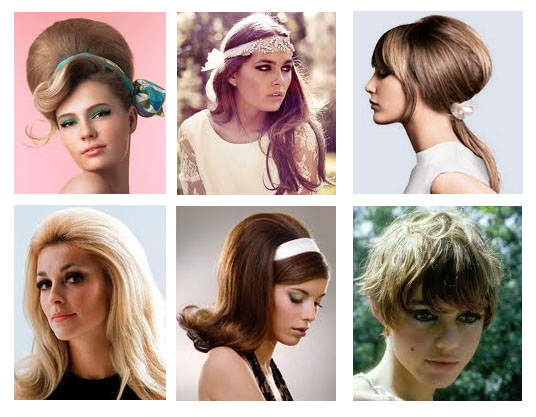 60s hair relied heavily on hairspray, headbands and wild beauty. Big, voluminous styles were the norm. More natural, untamed tresses were also a very popular look. Ladies used accents like flowers, sashes, and feathers to accentuate their hairstyles.
Makeup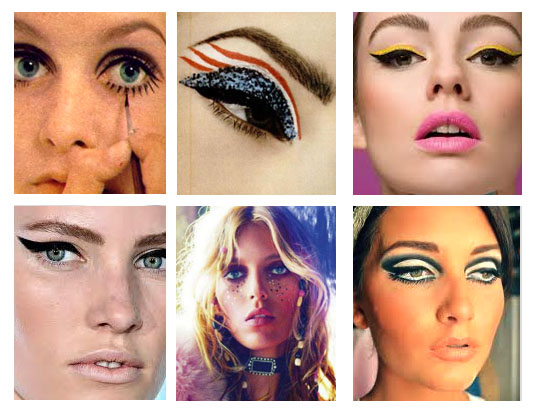 Makeup in the 1960s was all about the eyes. The "Twiggy" style was very popular (as seen in the top left picture). Dramatic eyeliner was applied in a winged fashion to achieve a glamorous aesthetic. Vibrant eye shadows and bright pink lipsticks were perfect for a modern edge. Other ladies chose to forego antiquated red lips in favor of a more natural pout. Free-spirited hippies would get very artistic with face paint designs.  
Accessories
Lastly, to complete the 60s look you will need to dominate the Fashion and Accessory department!
Here is your 1960s Ultimate Fashion checklist:
Peace Sign Necklace
Feather Earrings
Feather Necklace
Hippie Headband
Lennon Style Sunglasses
Wide Headband
Peace Sign Scarf
Face Paint

This article was published by Private Island Entertainment LLC.
For more articles, please visit privateislandparty.com