Big Momma got yo beans n boo-tay
Big Momma be gettin some flack from a Mista lard_infamous ova wantin some my beans!
Sure Big Momma gots the best southern beans this side of the Mississippi and she gonna share the recipe with yall tonight~
Big Momma's southern BBq Baked Beans
1 lb. ground beef
1/2 teasp. salt
1/4 teasp. peppa
1/2 teasp. worstershire sauce
1 teasp. hot sauce
1 teasp. vinegar
1 can pork/beans
1/4 chopped onion
1/2 fancy ketchup
1/4 cup Big Momma BBq sauce
2 tablesp. brown shuga
fry beef, onions, salt n pepa. Add all other ingredients, bake on 350 for half n hour and mmm-mmm child! Big Momma be lickin her fingers all through church thinkin bout them beans~!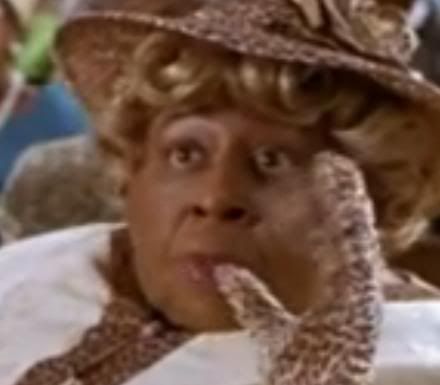 And to a Mista Dangle, BOY U BETTA BE GETTIN YOUR ASS TO THE PHONE AND BE CALLIN MY SHAQUANDA!
ShaQuanda be mad yall menfolk aint be contactin Big Momma fo her number. But i's told her honey, when Big Momma be goin places Big Momma be gettin all the attention, and on a site with such sofisticated intellecuals like this e-baum planet, it aint no surprize Big Momma be attractin all the menfolk.
So Big Momma be leavin yall with a picha of me at my last excurson to tha beach, child. Let this be a beautiful sight to yall menfolk that Big Momma be waitin for some new messages!