Went out last night with girlfriend #3, the tall blonde.  We met at a "trendy" nightclub that specializes in $15 specialty martinis.  Not really my kind of place.
The martinis were half price during happy hour and it turned out to be an ass ton of liquor, so it wasn't a bad deal.  When I'm drinking hard liquor, I usually get bourbon or irish wiskey with ice.  It's hard to fuck that up no matter how inept a bartender you are. 
But last night, I got a couple pomegranate martinis.  Grapefruit vodka, pomegranate liquour, cointreau, pomegranate juice.  It's a fru-fru drink, but it was tasty and was mostly vodka.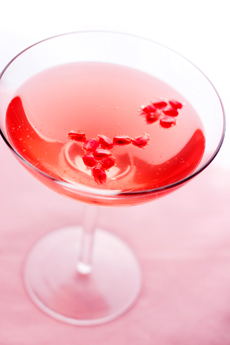 Your drink came in a mini martini shaker, so it was actually two martinis worth of booze.  It made the $15 price tag ($7.50 happy hour price) easier to tolerate.
We drank a few drinks and had a roasted red pepper hummus appetizer.  It turns out she likes all the same bizarre ethnic food as I do.  The live music started and not only killed all conversation with its volume, but started right in with a terrible Lady Antebellum song that was one of troll-wife's anthems during her bizarre metamorphosis.  I suggested that we fuck off and take a walk around Town Square.
Town Square really is nice.  It's a kind of retail, mini town with restaurants, clubs, theaters, retail, and parks all put together in a Willy Wonka/Norman Rockwell strategy.
We walked off our hummus and booze, talked for a while, and descretely made out for a while when we ended up sitting in an out of the way bench by one of the fountains.  I was pretty sure I could've finagled a trip back to her nearby condo for something more intense and private, but I didn't push it.
At about 1 am, I walked her back to her car, told her how much I enjoyed the evening, gave her a goodbye kiss, and went home.
Before I got home, she'd already texted me about how she'd like to get together again, "sooner rather than later" and gave me some clear indicators that she probably would've liked me to go home with her.  I excused myself with the fact that I was just getting back into dating and might be oblivious or uncertain about obvious queues.  She said that was actually part of my appeal and would like to get together again soon to straighten that out.
She reads the same books as I, she has the same interest in esoteric physics concepts, she even smokes the same cigars as I (Montecristo whites).  Like I said earlier, the other two women I'm involved with are more attractive, but she's still really attractive.  She looked great in the casual dress she was wearing last night.  I got the opportunity to gratuitously check out her ass when she went to the restroom.  There was nothing wrong there.
I think I'm going to pursue a more intimate rendezvous with her sometime this week.  Based on the mild to moderate making out we engaged in, she appears to be the type of woman that would show "pleasant enthusiasm" during sex.