Mardi Gras: The Krewe of Bacchus
by Donna Martin

What do Hulk Hogan, Larry King, Jean Claude Van-Damme, and Nicholas Cage all have in common? If your immediate answer was that they share an indomitable screen presence, youre not entirely wrong. But these masters of their craft share another responsibility that has been delegated to few but celebrated by millions: King of the famous Mardi Gras parade thrown by the Krewe of Bacchus.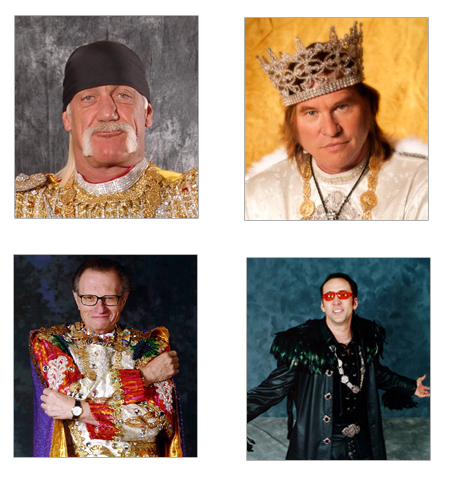 To fully appreciate the great responsibility entrusted in these men, we must bypass the space-time continuum, spend a moment in Ancient Greece, and begin with the birth of Bacchus, the Greek god of wine, pleasure, and ritualistic madness. The scandal that brought forth Bacchus could shame even the juiciest reality show drama on TV today.
The story begins with Zeus, his mistress, and his jealous wife. Upon hearing rumors that the mortal Semele had conceived, Hera, the wife of Zeus, set out to learn the identity of the childs father. She disguised herself as a nurse and befriended Semele. After hours of girl talk, Semele finally admitted that Zeus, the god to end all gods, was in fact her baby daddy. Heras greatest fear had been realized: her unfaithful husband impregnated a human. Rather than divorce Zeus and take him for all he was worth, Hera simply questioned Semeles story and challenged her to prove it. With seeds of doubt planted deep in her mind, Semele demanded Zeus to prove his godliness. Zeus protested but ultimately agreed to prove himself in a show that I can only imagine was the equivalent of fireworks made of lightning bolts above six exploding volcanoes. Needless to say, his power was too intense for a human and Semele died.


Crazy, right? And what about little baby Bacchus? Well, Zeus knew that his show would kill Semele all along so he came prepared. Moments before Semeles death, Zeus took the unborn Bacchus from his mothers womb and sewed it into his own thigh. Having been born from a mans thigh, you cant blame Bacchus for needing a stiff drink and a good party. If you spend some time combing through a mythology book, youll find dozens of stories of Bacchus antics. Hes like the ancient version of your favorite drinking partner and he definitely gets bonus points for cultivating a taste for the finer things of life such as the theatre.
It makes sense that one of New Orleans famous Super Krewes borrowed their namesake from our favorite ancient god. The Krewe of Bacchus has been celebrating Mardi Gras since the mid 1960s with huge parade floats and celebrity monarchs. Each year, a new celebrity is chosen to lead the parade. Armed with beads, and trinkets, the Bacchus king searches the crowd for parade attendees who celebrate in true Mardi Gras fashion: total excess. You wont catch a medallion from the King of Bacchus for wearing a set of beads and smiling politely. Thousands of Mardi Gras lovers line the streets of New Orleans, all vying for the attention of the parade kings.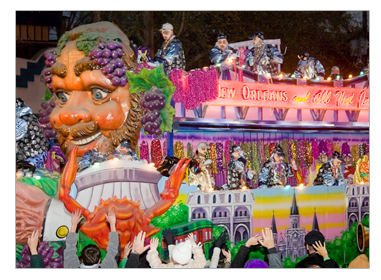 The best way to get the attention of parade kings is by embracing total decadence. Mardi Gras is the season before fasting, so the theme of excess plays an important role. Start by getting your hands on the fanciest mask you can find. It should be colorful, sparkly, flamboyant, and attention grabbing. Historically, the mask allowed members of lower classes to party with aristocrats without being detected and were a huge part of Super Krewe balls. Participating in the traditions of not just Mardi Gras but of New Orleans will go a long way. Pick up a few noise makers and draw some attention to yourself while you wait in the parade line. If you havent had any luck catching beads from the parade kings, try bartering with your neighbors. Most people are willing to trade and barter for beads. If youre not lucky enough to make it to the big easy, become your own parade king by throwing a Mardi Gras theme party at home. Why wouldn't you want to dress up like this in front of your friends?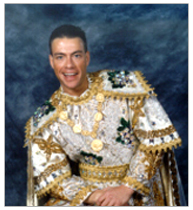 This could be you.