Top 10 Mardi Gras Spots Worldwide
by Geoffrey Stanton
Mardi Gras, the last Tuesday before the beginning of Lent, is one of the wildest and most widely celebrated holidays in the world. The name Mardi Gras literally translates to "Fat Tuesday"--referring to one last day of excess before a month of fasting and repentance. In many other countries the celebration is called Carnevale (thought to mean literally "a farewell to meat", again in reference to the Lenten fasting) and is often a huge celebration that spans several full days. Despite its Catholic roots, Christians and non-believers alike take this opportunity to let go of their inhibitions and really live life to the fullest. With that in mind, we put together a list of some of the best Mardi Gras/Carnevale celebrations worldwide. Enjoy! Celebrate Mardi Gras here!

10. Asakusa, Japan
image credit: static.ibnlive.in.com/pix/slideshow/09-2008/samba-carnival-rocks/samba_m.jpg
Japan probably doesn't jump to mind for most people when talking about Mardi Gras, but in the town of Asakusa, a fairly large Brazilian population has brought the Carnevale tradition to the Land of the Rising Sun. The holiday has been embraced wholeheartedly by their Japanese hosts, and the Asakusa Carnevale celebration is now a huge tourist attraction every year--in excess of 500,00 attendants, according to the organizers. Best of all, the different troupes taking part in the parade are actually competing for a cash prize, so you can bet that they bring a lot of energy to the party.
9. Mobile, Alabama
image credit: blog.al.com/mardigras_impact/2008/02/large_mg-dragons.jpg
New Orleans is probably the most famous city in America for its Mardi Gras celebration, but don't make the mistake of talking about it in Alabama. America's Mardi Gras tradition actually started in Mobile before being brought down to Louisiana. Every year, Mobile throws a Mardi Gras celebration to rival that of the Big Easy--a fact that Alabamans are very proud of.
8. Paris, France
image credit: whattoseeinparis.com/images/paris-carnival.jpg
Since we get the term "Mardi Gras" from French, you'd pretty much expect France to throw a kickin' Mardi Gras party. And Paris has one of the best Mardi Gras celebrations in the world. From the 16th Century up until about the 20th century, the Paris Carnival was a behemoth multi-day festival. Sadly, today it only occurs on Mardi Gras itself--but don't worry, they still go all-out.
7. New Orleans, Louisiana
image credit: 3.bp.blogspot.com/_OFpCCX-zBts/SYvZWD4hjTI/AAAAAAAACEw/rd1VqICjPIs/s400/bourbonstreet.jpg
Of course, how could we talk about Mardi Gras and not mention New Orleans? Anyone who's visited that fair city during any season knows that it's a pretty crazy town. Actually, the fact that it doesn't even crack the top 5 craziest Mardi Gras celebrations should probably give you an idea of how seriously the rest of the world takes this holiday.
6. Dusseldorf, Germany
image credit: femalecity.gr/wp-content/uploads/2011/02/Dusseldorf-Carnival-parade.jpg" width="533" height="400" alt="Dusseldorf-Carnival-parade.jpg
Now, I know what  you're thinking. How did New Orleans get beat out in a wild-and-crazy contest by Germany!? Sad but true, ladies and gents. Carnival season has always been a huge deal in the Rhineland--dating back to the Napoleonic era, when the holiday was one of precious few outlets to criticize the occupying French by means of mockery and satire. These days, Carnival is a season of celebration that starts on November 11th and lasts all the way to the beginning of Lent, taking only a brief break for Christmas and New Year's.
5. Barranquilla, Colombia
image credit: wildcolombia.files.wordpress.com/2011/03/carnival.jpg
Barranquilla is home to one of the biggest and most lavish Carnevale celebrations in the world--the city is overrun with tourists for over a month leading up to the spectacular four-day festival. The party is so massive that the city itself essentially shuts down from Saturday until Ash Wednesday (at which point I'm sure the public works department kicks into full swing, sweeping up piles of vomit and confetti). The city's Carnival even has its own slogan: "Who lives it, is who enjoys it." I'm sure it sounds much better in Spanish.
4. Binche, Belgium
image credit:hellotravel.com/sites/default/files/carnival-de-binche.jpg
With a history dating back to the 14th Century, inhabitants of Binche, Belgium have had plenty of time to perfect the art of partying. So it's no wonder that UNESCO (United Nations Educational, Scientific and Cultural Organization) has named the Carnival of Binche a "Masterpiece of the Oral and Intangible Heritage of Humanity". Taking place from Sunday until Ash Wednesday, the Carnival of Binche is famous for its unique aspect, the Gilles. Gilles are a thousand local men who don an odd wax mask and march through the streets, warding off evil with a stick and dancing, and finally, marching through the streets, hurling oranges to (or at) the crowd of spectators. Being one of the Gilles is considered a great honor by local men, so you can imagine how into Carnival the whole place is.
3. Port of Spain, Trinidad & Tobago
image credit: media-cdn.tripadvisor.com/media/photo-s/01/71/c8/9a/carnival-in-port-of-spain.jpg
For a country you're not even sure you've heard of, Trinidad and Tobago sure knows how to throw a Carnival. Though only two days long (Monday and Tuesday), the carnival at Port of Spain is Trinidad and Tobago's largest cultural event and tourist attraction, bar-none. It is said that in Trinidad & Tobago, if the citizens aren't celebrating Carnival, they're either preparing for next year's Carnival or reminiscing fondly on last year's. Clearly, this little archipelago knows what's up.
2. Venice, Italy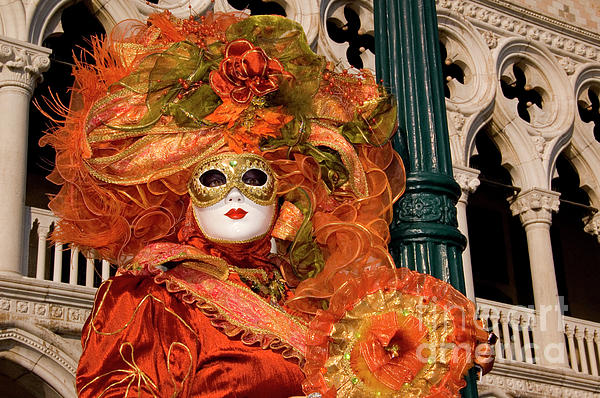 image credit: images.fineartamerica.com/images-medium/venice-carnival-mask-italy-amos-gal.jpg
The Carnival of Venice is probably best known for its distinctive masks, which have become so wildly popular that they're almost as ubiquitous as beads when talking about Mardi Gras celebrations. The Venetian festivities have a long and interesting history, but the short version is that the introduction of the full-body costume and mask set the stage for one of Carnival's most famous traditions, the temporary suspension of all usual social morays. During Carnival, distinctions between rich and poor disappear, and people aren't held to the same social standards of decorum and couth as the rest of the year. If you like that idea, you have Venice to thank.
1. Rio De Janiero, Brazil
image credit: 0.tqn.com/d/gobrazil/1/0/F/C/0/-/Unidos_da_Tijuca.jpg
The Carnival at Rio De Janiero is, without a doubt, one of the best-known parties in the entire world. Running for the full four days, the Rio Carnival attracts fully two million visitors, making it the biggest Mardi Gras event on the planet. Add that to the fact that Carnivale in Brazil is characterized by mind-bogglingly elaborate floats and costumes, and you can imagine why Rio managed to clinch the top spot. But if you're planning on trying to get in on the action, make sure to book your flights and hotels very early--like maybe a full year in advance.
For more articles, please visit privateislandparty.com!