My Favourite Comics
†




Googoo Go Go Dancer
What a great story! What great illustrations! Could it be a fantasy or could it be true? Well, you'll wish it were true.
This comic has something for everyone regardless of your sexual orientation or your interests. A handsome young stud from Australia, Joey Osborn, is visiting his Uncle in the US. While he's here he wants a job. What a job he gets - as a go go dancer in a club owned by his Uncle's lady friend. She's been looking for someone young and handsome like Joey to play the part of a "very special" go go dancer. She "tests" Joey to see if he can win the part, and he "wins". And what part it is, and what a surprise for Joey.
You'll love how the other male dancers react to Joey's new role, and "help" him get dressed for the part. Then the entire audience, which is practically all female, falls in love with Joey and his new "act". They want more and more of him, and you'll see why. You'll also see what happens to him on stage. Well, I bet you can guess what happens - and it's not just an accident.
This is possibly the best Comic every published by DPF, and our first full comic by Bojay (yes, he's back). We hope to have more from Bojay in the future, but in the meantime you're gonna love "The GooGoo Go-Go Dancer"†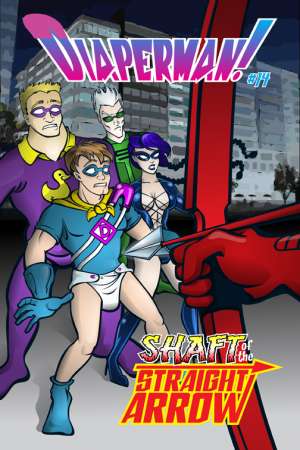 †
Diaperman Comic
At Megopolis U., Michael Adamson's alta ego is 'Diaperman' - fetishist and freedom fighter. His arch enemy, Mark Richter, becomes 'The Spanker' with evil and powerful desires to rule the world.In fights between good and evit, students and faculty find themselves plagued by wet and poopy pants. Of course Diaperman always comes to the rescue (with diapers, of course). Even the football team and football coach find themselves in diapers, (and they like it). Will Diaperman win or will The Spanker win, and who will end up in diapers? Maybe you!! 24 pages.
†
†
"Diaper Daze"
A typically rebellious teenager has been turned into a docile and submissive infantile plaything. Watch him behave like a real baby. His mind must be screaming with humiliation and embarrassment, yet he meekly submits to every baby treatment you can possibly imagine. Eric stands there while his stepmother pats his behind to feel the load in his pants. He lies down on the living room floor and lifts his legs so his stepmother can change him. He does everything a baby does, and right in front of his stepmother1s sister and her 14 year old son. WHY??. This comic book will give you the answer.
†
†
"Fraternity Baby" COMIC BOOK
During pledge week, this young college freshman learns that he will have to be a baby, wear diapers all the time, drink baby bottles and act like a baby. He must stay in the frat house in a playpen while his pledge mates go to class. He is humiliated. His pledge mates have to change his diapers whenever he is wet. But, soon, unbelievably and uncontrollably, he begins to like it. He begins to feel himself turning into a real baby and can not stop it. One of his pledge-mates even becomes his daddy. Based on a true story that actually happened at U. of California.†