Rand Paul Claims People Making Under $50k Don't Pay Taxes, Gets Ripped by 'The View' Audience
Senator Rand Paul had a rather tumultuous appearance on 'The View' earlier today, and made a faux pas that shows just how out-of-touch he is with the lives of everyday Americans.
The Kentucky Republican senator stopped by the show on Friday morning to promote his new book, The Case Against Socialism. Unfortunately for him, the hosts and the audience weren't especially receptive to what he had to say.
Rand Paul gets laughed at by The View audience after saying that the 1% has it worse than the working class when it comes to taxes.pic.twitter.com/tjtc5GJfm3

— Karine Jean-Pierre (@K_JeanPierre) October 11, 2019
First, he claimed that the socialist ideals of Bernie Sanders are actually very unpopular and that Denmark - which Sanders often uses as a model of what his form of democratic socialism would resemble - actually isn't socialist because they have "private property" and "no minimum wage." While it is technically true that Denmark has no mandated federal minimum wage, it's only because they have wages that are negotiated between unions and employers through robust collective bargaining agreements which have resulted in the average Danish McDonald's worker making at least $20/hour.
Paul then went on to say that all the "free stuff" that Scandinavians receive is the result of extremely high tax rates, to which one of the hosts responded by saying that Americans pay fairly high tax rates as well but receive none of the benefits their Scandinavian counterparts do. This is where things started going downhill for the senator because he responded with:
We have a different form of taxation in our country. It's much more progressive. We've taken the poor off of the rolls, they don't pay income tax anymore. Most people below $50,000 don't pay any income tax, the top 1 percent in our country pay 40 percent.
As the W-9's for 90% of the people reading this can attest to, that statement is patently false. According to data from both TurboTax and H&R Block, the 2018 income level for which you don't need to file taxes was actually $12,000 or below. Additionally, the top 1% actually paid a lower tax rate than the working class in 2018, and tax rates for people at the top of the ladder have been falling steadily for the last 50 years: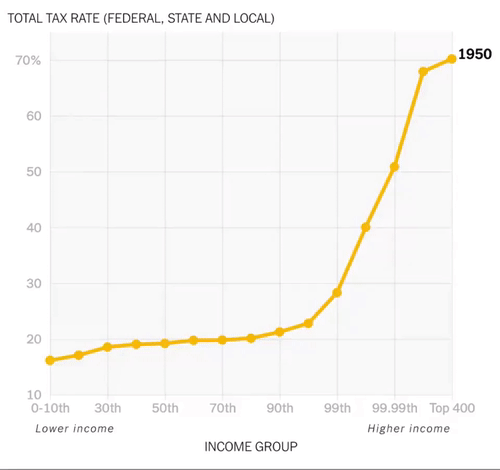 It wasn't long before Paul's name started trending on Twitter.
Rand Paul cites that Scandinavia's "free stuff" comes from taxing the working and middle class. Um Rand, BILLIONAIRES are paying LESS taxes then the people who are living paycheck to paycheck. Like, dude, you've got to be freaking KIDDING me! #TheView pic.twitter.com/v58aPTf6VX

— Nam Myoho Renge Kyo Biden (@rashonts) October 11, 2019
Kentucky deserves better representation than Rand Paul if he doesn't even know that his constituents making $50,000 a year do indeed pay taxes. pic.twitter.com/f4xSOqvn1m

— darlene (@DarleneSpaldin2) October 11, 2019
Rand Paul went on The View and said the 1% has it worse than the working class when it comes to taxes. The audience was right to laugh at him. In 2018, the average effective tax rate for the richest 400 families was 23%. For the bottom half of US households, it was 24%. pic.twitter.com/rcyv1Gw8S5

— Adam Best (@adamcbest) October 11, 2019
You can check out the full video of Senator Paul's appearance below: