Zion's Shoe Exploded and So Did the Internet
Featured 02/21/2019 in
ouch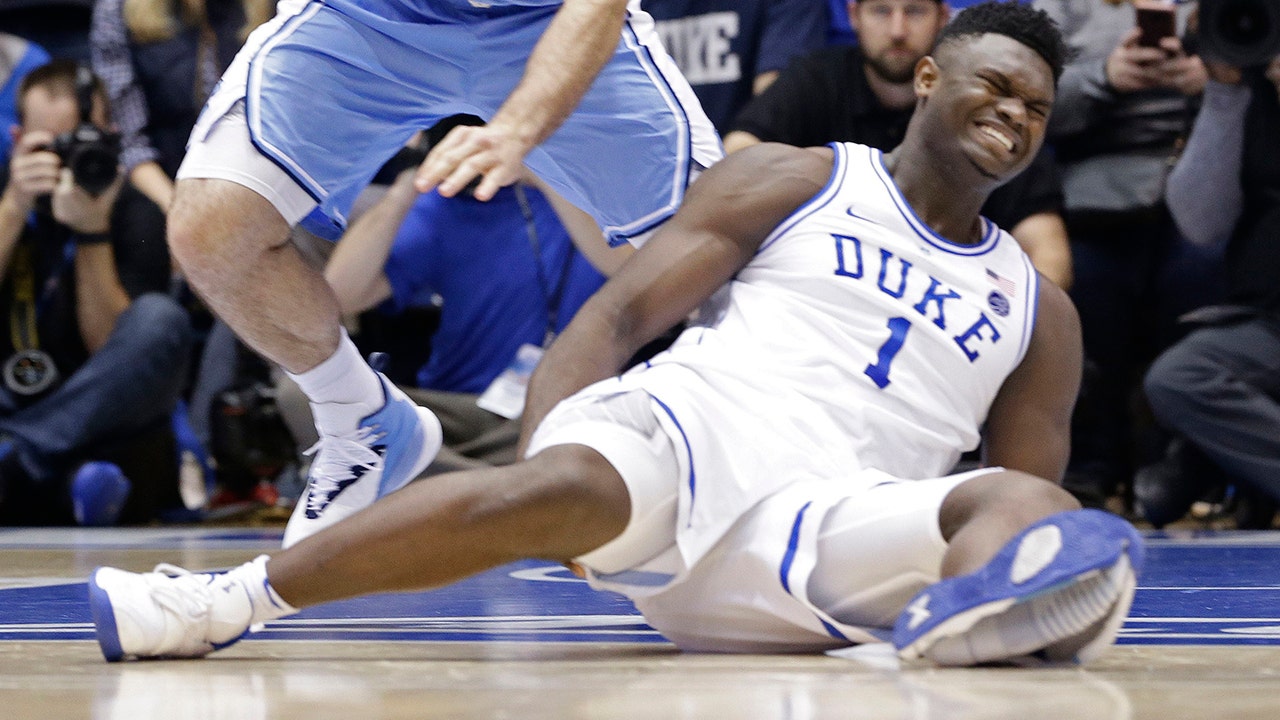 Zion Williamson suffered a painful injury in the UNC Duke Rivalry Week game.
Wednesday's UNC vs Duke game was hotly anticipated. Not only is the men's college basketball rivalry one of the biggest in sports, but the event was hyped to insane levels because of a generational NBA prospect playing for Duke: Zion Williamson.
Unfortunately for all the celebrities and Duke fans in attendance who paid more than Super Bowl prices to be there, this happened on the very first play:
ZION BUSTED THROUGH HIS SHOE @ZionW32 (via @theACCDN) pic.twitter.com/GQXJHgTZvY

— Overtime (@overtime) February 21, 2019

When it was announced Zion suffered a minor sprain and would not return, some people just left. Including one Kobe Bryant:


"Zion Williamson will not return tonight." pic.twitter.com/USmDE7aWR2

— JT (@Just__JT) February 21, 2019

Rivals of Nike made unsuccessful and distasteful attempts to capitalize on the shoe's failing.


Puma basketball has since deleted the tweet aimed at Nike: https://t.co/Hr55iX54fZ pic.twitter.com/T1AoLlEC6x

— Sporting News (@sportingnews) February 21, 2019
---
MEMES: March Madness Memes To Share When Your Bracket is Busted
---

Most people just wished Zion well. Including a former Duke player who confused him with a national park.


Thanks! In anticipation of heavy snow, several roads at @ZionNPS have closed. Be careful out there! Visit https://t.co/uL53F1ff1E for updates.

— NationalParkService (@NatlParkService) February 21, 2019

NBA players fed up with the college system attempted to give him advice.


go play in europe https://t.co/2o2VPbwnYX

— Luka Doncic (@luka7doncic) February 21, 2019

The internet did what is does and memed hard.


Zion Williamson : "I'm about to drop 40 on UNC tonight"

Zion Williamson's Nikes : pic.twitter.com/qs38pVm12F

— Gilbert Arenas (@GilbertAgent0) February 21, 2019
Under Armor, Adidas, and New Balance after Zion Williamson sneaker tore apart mid game: pic.twitter.com/mqpxOCInK2

— Tyler Nordquist (@NordquistTyler) February 21, 2019
Tough one. pic.twitter.com/2xi8Yi9Pxx

— Adam Mares (@Adam_Mares) February 21, 2019