Porn Giant Offers Miss Colombia $1 Million To Do Porn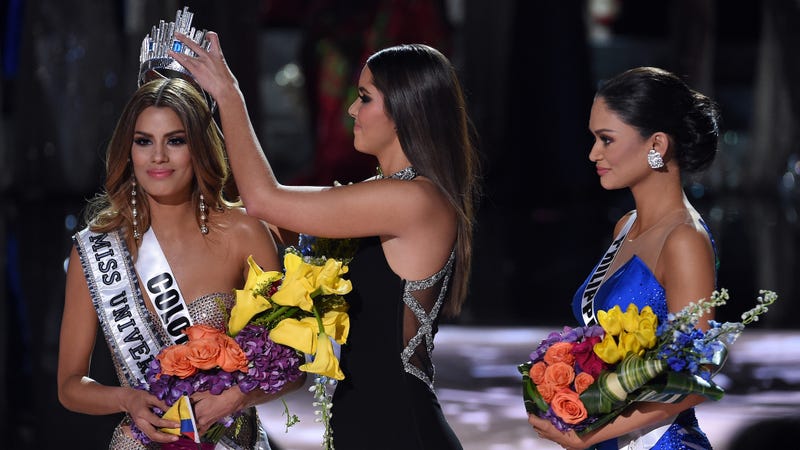 It's not all bad news for Miss Colombia. Vivid Evertainment is looking to put the crown back on Miss Colombia's head, after Steve Harvey's awful mistake took it off of her. Company head Steve Hirsch wrote a letter to Miss Colombia, Ariadna Gutierrez, saying he could help her "benefit from your experience financially as well as increasing your fame." Hirsch cited another former pageant winner who posed for nude pics with Penthouse.
"Try to think about the names of former Miss Universe or Miss America title holders. The only name that most people remember is Vanessa Williams," Hirsch said in the letter, forgetting about Steve Harvey altogether. "Celebrity sex tapes we have distributed have enhanced the careers of stars such as Kim Kardashian, Kendra Wilkinson, Pamela Anderson and many others." Who wouldn't want to be in that esteemed company?  
But that's not all! "You will pick your partners, the type of sex you want to have and how many movies you ultimately appear in," Hircsh continued, something she was hopefully going to do anyway.
Finally, before anyone can say "actually," Hirsch says he will even "commission the making of the first Vivid Girl Crown for you and we believe it will be grander than anything Miss Philippines will ever wear." But really, is Miss Philippines wants to shoot some vids too, we wouldn't say no, Hirsch probably slurred before eating a steak.
Follow Mike Cella on Twitter @mikevcella