Antonio Brown Forces Doctor To Smell His Beefers, Gets Sued
Antonio Brown just can't seem to stay out of trouble these days. The All-Pro receiver, who was just signed by the New England Patriots after a controversial and short-lived stint as an Oakland Raider, is currently facing multiple lawsuits - the funniest of which is definitely the one for unpaid wages/medical fees by a Pennsylvania doctor whom Brown farted on repeatedly during their appointment together.
Dr. Victor Prisk, who owns and operates Prisk Orthopaedics and Wellness (POW) in Monroeville, Pennsylvania, claims that Brown failed to pay the bill for his visit - which he showed up three hours late for.
To add insult to injury, the good doctor was also on the receiving end of several prime beefers by AB as he was examining him. The incident was even captured on video (seen below) by an associate of Brown's for the star athlete's social media.
Antonio Brown continuously farting in front of his doctor.

"It seemed just childish to me," Dr. Prisk said to @SInow . "I'm a doctor and this man is farting in my face." pic.twitter.com/uAdCUyDAP9

— The Talk (@TTalkSports) September 16, 2019
Brown has responded to Prisk's indignation over being farted on by revealing that, when the farting incident first went viral on TMZ Sports a year ago, Prisk actually bragged about the coverage to him over text messages: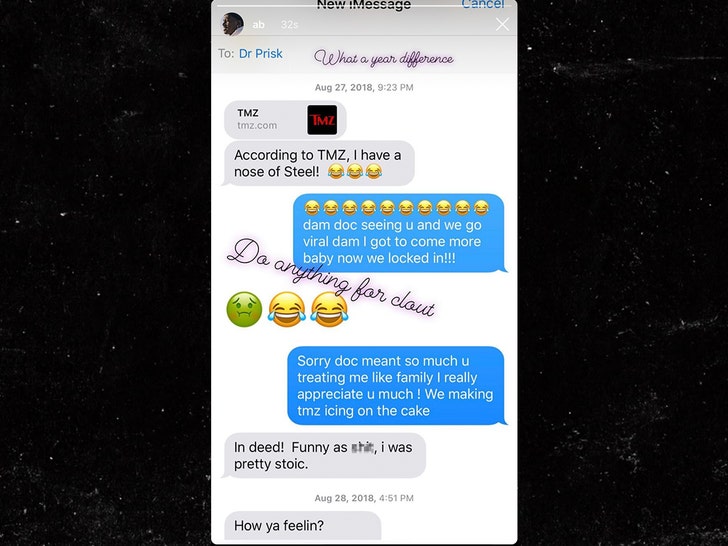 Prisk is currently suing Brown for $11,500 in damages, and it's hardly the only lawsuit AB is staring at. In fact, according to an article published in the Pittsburgh Post-Gazette, Brown has a history of stiffing people on the bill for a wide variety of goods and services.
Brown is also facing down several allegations of sexual misconduct, including accusations of rape.