China Is Using Its Economic Might to Silence Free Speech All over the Globe
Uploaded 10/08/2019 in
wtf
The Chinese government has long been known for its tight-fisted policies regarding free speech within China's borders - the country has famously restricted access to large chunks of the internet such as Twitter, Google, Reddit, and PornHub (all the good stuff, basically) in an effort to control internal dissidence. Now, however, China is attempting to flex its economic muscle to put a chokehold on freedom of speech well beyond its borders, with its ongoing conflict with Hong Kong at the center of it all.
For those who may not be aware of it, mainland China has been currently locked in a tense standoff against protesters in Hong Kong for several months now. Although Hong Kong is considered Chinese territory, its unique history as a former British colony (and economic powerhouse in its own right) grants it status as a "special administrative region" - essentially, Hong Kong has its own, quasi-democratic government that operates separately from the mainland's Communist Party.
Recent events regarding extradition rights in a criminal case involving a Hongkonger wanted by the mainland sparked a wave of protests throughout Hong Kong, and the cause has since been broadened to include China's general encroachment upon Hong Kong's autonomy.
This week started off with a massive controversy regarding a tweet posted by Houston Rockets GM Daryl Morey which expressed sympathy towards the protesters in Hong Kong. China - which is a massive market for the NBA and the Rockets, in particular - was NOT happy about it. Fans took to Weibo (China's version of Twitter) to express their displeasure and burn their NBA tickets/merch. The NBA, for its part, tried its best to have everyone involved apologize and backtrack their remarks to appease Chinese consumers - though China still retaliated by dropping two Lakers-Nets games that were scheduled to air on Chinese networks. League commissioner Adam Silver issued the following statement regarding that action:
We still feel it is "critically important" to adhere to our values of free expression, even if these are the consequences for that, says NBA Commissioner Adam Silver https://t.co/forkoa2hT5 pic.twitter.com/EIDjhpcmS3

— Bloomberg (@business) October 8, 2019
Adam Silver on the NBA's situation in China: "I recognize our initial statement left people angered, confused or unclear on who we are or what the NBA stands for. Let me be more clear...." pic.twitter.com/UfGqm7Kqax

— Rachel Nichols (@Rachel__Nichols) October 8, 2019
Almost simultaneously, China also pulled South Park off the air/internet due to the latest episode of the show taking a crack at how Hollywood censors itself in order to retain access to China's massive consumer market. China responded by literally scrubbing any mention of "South Park" from their most popular websites and search engines. That led to a characteristically tongue-in-cheek apology from South Park creators Matt Stone and Trey Parker:
Watch the full episode - https://t.co/oktKSJdI9i@THR article - https://t.co/nXrtmnwCJB pic.twitter.com/Xj5a1yE2eL

— South Park (@SouthPark) October 7, 2019
The full statement reads:
Like the NBA, we welcome the Chinese censors into our homes and into our hearts. We too love money more than freedom and democracy. Xi doesn't look just like Winnie the Pooh at all. Tune into our 300th episode this Wednesday at 10! Long live the Great Communist Party of China! May this autumn's sorghum harvest be bountiful! We good now China?
The final incident (for now, at least) involves gaming company Activision Blizzard. Esports pro and Hearthstone Grandmaster gamer Blitzchung found himself heavily penalized by the gaming giant after he ended a recent stream wearing a mask similar to the ones worn by protestors in Hong Kong, while declaring, "Liberate Hong Kong. Revolution of our age!"
Blizzard, clearly aware of how this might negatively affect their sales and stream viewership in China, almost instantly removed Blitzchung from upcoming tournaments and banned him from participating in Hearthstone events for a full year. They concluded the punishment was valid for violating the following rule:
2019 HEARTHSTONE® GRANDMASTERS OFFICIAL COMPETITION RULES v1.4 p.12, Section 6.1 (o)

Engaging in any act that, in Blizzard's sole discretion, brings you into public disrepute, offends a portion or group of the public, or otherwise damages Blizzard image will result in removal from Grandmasters and reduction of the player's prize total to $0 USD, in addition to other remedies which may be provided for under the Handbook and Blizzard's Website Terms.
Despite the harsh punishment, Blizzard maintains that they still "stand by one's right to express individual thoughts and opinions," but also added that, "players and other participants that elect to participate in our esports competitions must abide by the official competition rules."
In response to the backlash, Blizzard has apparently shut down their subreddit.
Where things really go bats**t, ape-nuts insane is when Chinese people on Weibo started posting some TRULY f***-ed up anti-American rhetoric. I'm not talking your run-of-the-mill "USA BAD" stuff either - I'm talking straight-up sympathizing with the terrorists who conducted 9/11: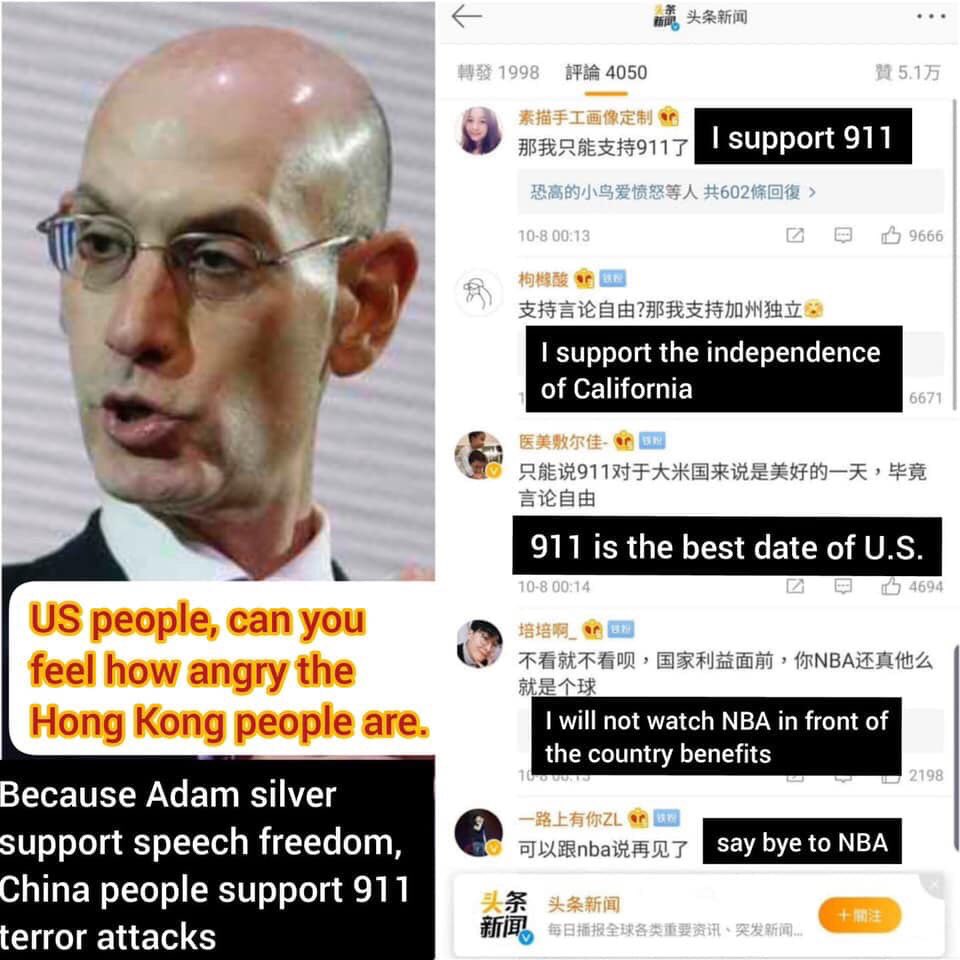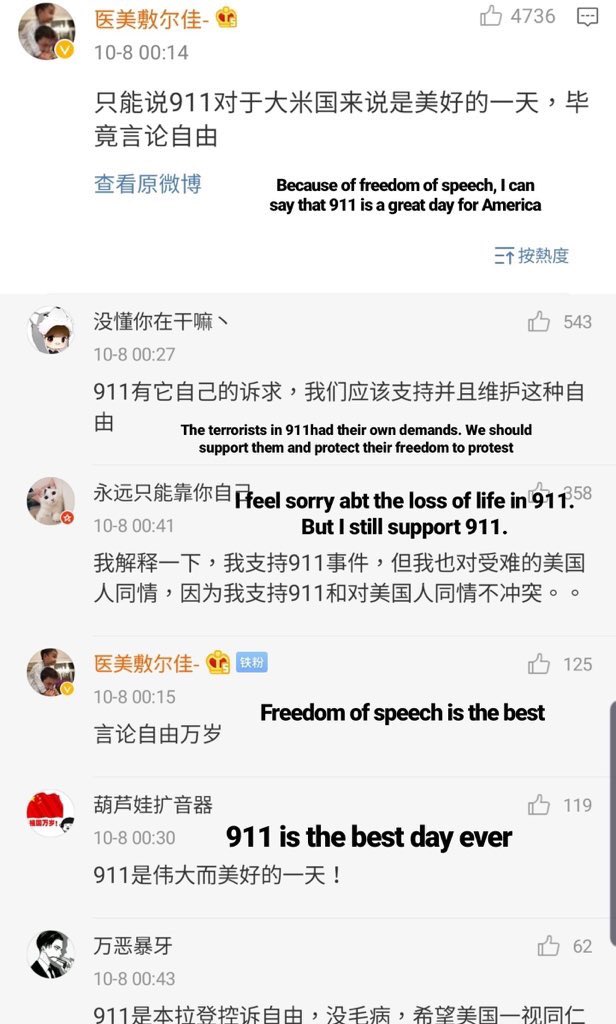 Essentially, these trolls are trying to say that them saying the terrorists responsible for 9/11 are good people is their freedom of expression just as it was Daryl Morey's to sympathize with Hong Kong's protesters. Because, you know, peaceful protests and blowing up buildings are apparently morally equivalent. Cool. Cool, cool cool.
China's CCTV also made the following statement regarding the NBA:
The last part of the first paragraph is especially troubling as it potentially indicates just how far China is willing to go to curtail the free speech rights of people worldwide.